(la page officieuse des jouets sur Albator)
(version francophone)
Welcome, visitor #
For all of you down there on planet earth, here is a list of toys made from
Leiji Matsumoto's epic space pirate !
This list is certainly not complete, and collecting Harlock toys has been a quest I have followed for years. For every Harlock item I could find for my collection, at least 500 Darth Vader items showed up ! Talking about guys with capes !
I am building my collection on an European basis, so most of the toys you will see are French or Italian versions. I don't know if the Japanese versions are different, but I certainly would love to have more information (and pictures) on the subject. I am also looking for new additions to my collection (and my web page), so if you have nice stuff you would like to sell or exchange for non-harlock toys, consider giving me a try ! (e-mail me !)

Lots of new items lately updated ! Please select what you want to see :
COMING SOON ! a number of drawings/cells of our heroes !
Please leave all your comments, ideas and tips on Harlock-collecting here :
That's it for now, but I'll work on this page as my collection evolves. By the way, these toys ARE NOT for sale (some of them are not even mine !), but just out there on the web for your personal information. Please feel free to send me pictures of all Harlock-related toys you have but that do not appear here. I will include them on my page with your permission. (e-mail me !)
Last Updated :
3 December 2001
I would like to thank everyone who contributed to the pictures and the information on this web-page, in particular Jean-Francois from Canada, Tom Spillaert, Michael Vincent, Jerome Nussbaum, Wim Eggermont, Ray Miller, my brother Benjamin (for the design part) and all of you that I have met or had the chance of speaking to about this and other toy-lines.
Disclaimer: Captain Harlock/Albator is a trademark of Toei animation. I am not affiliated with Toei nor do I profit from this work. This is a page for collectors from a collector. I acknowledge all copyright holders listed and unlisted (if unknown) for their source material: Leiji Matsumoto, Toei Animation, Bandai, Medicom, Mattel, Takara, Takatoku, Tanaka, Popy, Joustra, Ceji, Hasbro, Jesnet, Zippo and others.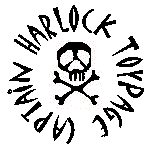 PLEASE CHECK MY OTHER PAGES AS WELL :
Geoffrey Peeters 2001 - Lisboa